Zigbee to RS485 Repeater, 3 Input Module
Zigbee repeater is a kind of low cost, low consumption, and wireless mesh network targeted at wide development of long life devices in wireless control and monitoring applications. It applies wireless controlling and wireless data transmission. One zigbee repeater can work with another or others as one network. As one solution to replace wire connection, it can connect with computer.
The Zigbee repeater can implement the wireless transmission based on RS485.
Product Highlights:
Low cost, low consumption
Wireless mesh network
Zigbee Input Module
3 Universal Inputs
Baudrate: 9600,19200, 38400, 57600, 115200
Supply Voltage: 12~24V AC/DC, ±10%, 50-60Hz
Description
Zigbee Input Module, ZIM-3I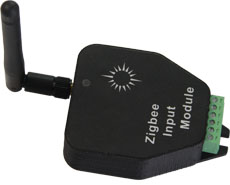 Zigbee to RS485 Repeater, ZIGB-RS485
Wiring Connection:
Dimension ZIGB-RS485: