Description
Panel mount wireless 4G network router connects your building automation system to the internet on remote sites where there is no internet connection. This router works over your local 4G wireless network, you'll need to sign up for an internet plan with your local carrier. Once you have the plan in place the ISP will provide you with a SIM card that you plug into a small slot on this router providing a wireless internet connection and hotspot.
There are 4 Ethernet ports for wired devices and also a 2.4 GHz WFi hotspot which provides long range coverage for wireless devices on your lan. Four antenna's are included for mounting remotely outside the electrical cabinet. The unit comes with a 110-220VAC wall wart type power supply which provides the 12VDC to the router.
There is one model for the North American market which uses LTE on the 4G network, and another model for the rest of the world which uses the GSM network.
North American Model: 4G Network and Frequency Bands
This 4G WiFi router is compatible with the frequency bands of SIM cards from USA/CA/Mexico using the following 4G LTE FDD frequency bands:
B2(1900Mhz)
B4(1700Mhz)
B5(850Mhz)
B7(2600).
Unlocked sims can work with any unlocked phone or router but you will need one that supports these particular bands, check with your local wireless provide to make sure they can provide a SIM card which matches. (Verizon is known to be incompatible with this router.)
Rest of the World: 4G Network and Frequency Bands
Performance:
Its download speed is up to 150mbps, upload speed is up to 50mbps, and wireless transmission speed is 300mbps. The WiFi Chipset is RTL8192, 802.11 b/g/n , 300Mbps;The LTE Chipset MDM9207. CAT4, 150Mbps. It has 4 high-gain detachable antennas, 2 antennas for receiving WIFI signals, 2 antennas for receiving 4G signals (support remove and change other antenna) , Ethernet mode: dynamic / PPPOE / LAN
Dimensions:

Two Antennas for wifi, Two for Mobile Network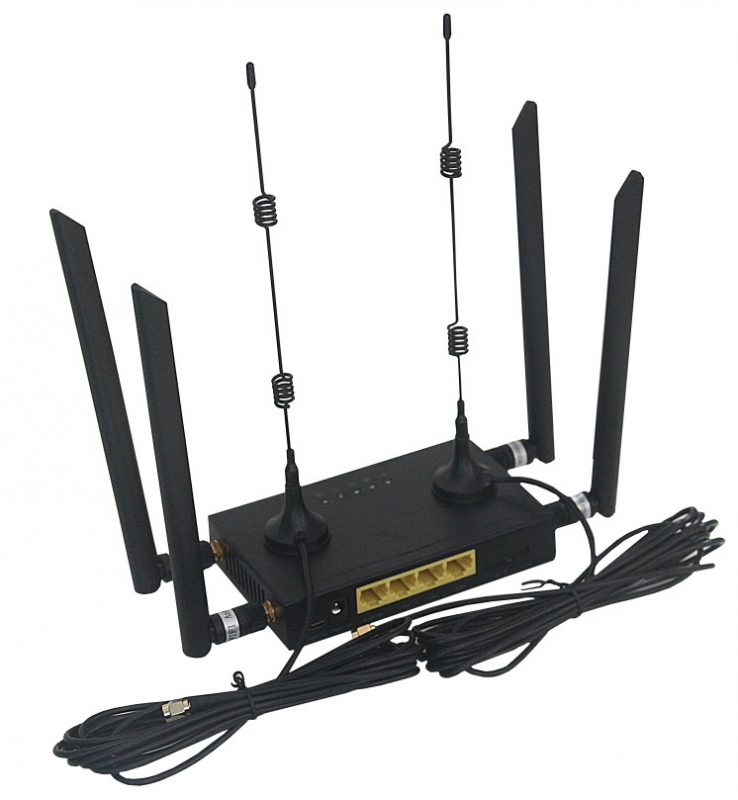 Typical Building Automation Setup