Description
The thermostat can be configured for use with air handlers, fan coils, VAV, modulating valves and practically any HVAC application. All models support RS485 bacnet MSTP and modbus RTU protocol which allows easy integration with the big name control systems like Niagara, Siemens, Honeywell, Johnson Controls, Delta, Reliable and Kreuter to name a few. The new Wifi version supports Modbus and with an upcoming release it will also support Bacnet over IP. There are five relays and two analog outputs as well as 8 universal inputs. These i/o can be configured using the free and open source T3000 front end software. There are hundreds of settings which allow these devices to be configured for most any application. Once the unit is configured, save the config file for copying to other controllers and backing up project settings. The backplate mounting arrangement allows for contractors to install the backplate first and then install the electronics later during commissioning. To take full advantage of the Tstat8 you can add one of our T3 series programmable controllers but this is not required, they can be integrated into other environments or they can work stand alone. The T3 controllers however, will act as a gateway from RS485 to Ethernet and so that all the bacnet objects or Modbus registers on the RS485 subnet layer and are available transparently on the IP network. The T3 controller also can provide a central management console for the system where schedules and setpoints can be assigned to various zones, graphical floorplans and logged data can be stored, and alarms can be generated. If we're missing features we'll add them usually for free, send us an email for your particular use-case and we'll discuss it. The source code for these units is also on Github for those who want to dig deep and customize.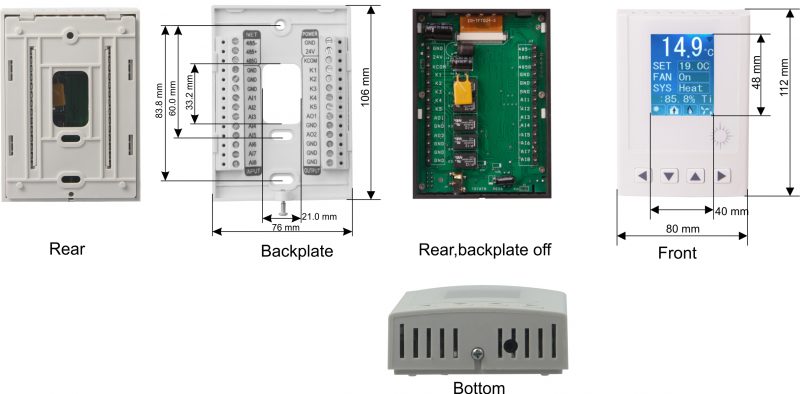 Work along with a master controller in a large system or for simpler systems,the thermostats can operate stand alone.
 
Wiring Diagram:
Part Number Scheme: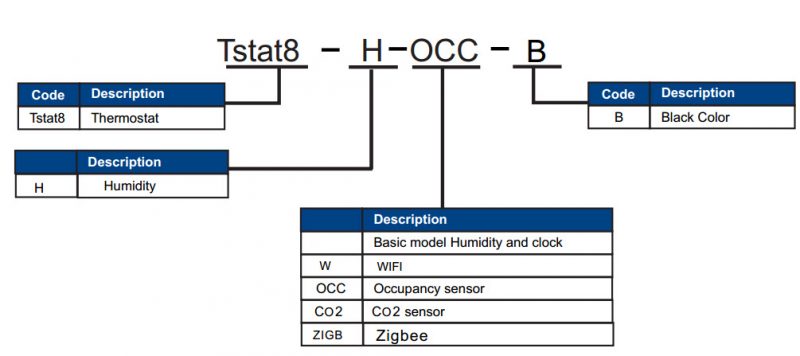 Note:Balck color of  the Tstat8 is available,the minimum order of which is 50.
Works with: Relay Board